Warriors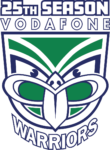 Teaming up with Ezypay to tackle its payroll has proven to be a winning formula for the Vodafone Warriors.
Based at Mt Smart Stadium in Auckland, the Vodafone Warriors is New Zealand's premier Rugby League club. When it was founded in 1995, the club managed only one team. Now in its 25th season, the club has expanded to four teams – its men's team, which competes in the NRL Telstra Premiership; men's reserve and under-20 teams, which play in the Intrust Super Premiership and Jersey Flegg competitions; and its women's team, which was introduced this year.
The Vodafone Warriors began using Ezypay eight years ago, after its previous payroll provider could no longer support the club. Ezypay came highly recommended and the rest, as General Manager Finance and Operations Dave Curran says, is history.
"We briefly thought about taking care of the payroll ourselves but after talking to the Ezypay team, it was obvious that they knew payroll inside and out. We instantly developed a good working relationship with the Ezypay team and we haven't had a problem since."
The Club contracts about 120 players and employs 50 full-time staff. Dave says the expertise and assistance provided by Ezypay has been exceptional, particularly in navigating the differences between employee and contractor agreements, as well as the treatment of holiday pay and education and housing allowances. "There are lots of rules to be followed, particularly in terms of paying players, and Ezypay are all over them."
Dave says Ezypay has made the job of maintaining two separate payrolls as simple as possible. "With players being paid at the end of every month and staff being paid halfway through a month, it's crucial that nothing falls through the cracks. All we do is provide the figures on a spreadsheet every month and Ezypay takes care of everything else – it's really easy."
With the working relationship between Ezypay and The Warriors having spanned the best part of a decade, Dave says the Club has come to rely on Ezypay's payroll expertise. "The Club has grown a lot in that time and Ezypay has been there every step of the way. Having the EzyPay team around to provide independent advice and clarification on any sticky payroll issues is great. They're easy to get hold of and always get the job done efficiently and effectively."
Keep exploring stories like this one